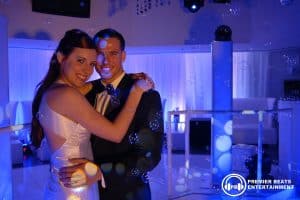 Bubbles for wedding, event or party or kids party. Our professional bubble machine lets off a of huge amount of bubbles and can fill an entire room extremely quickly. Bubbles also look great for outdoor events.
Our bubble machine can be hired out with any of our DJ services. We d0 not charge for our bubble machine, we include it for free, simply ask for it and we will bring it along to your wedding, party or event.
Bubbles can be used inside our outside, bare in mind when we use inside we cant have it on continuously due to the floor getting slippy. If the floor is all carpet this does help but we don't also want the carpet getting soaked. A few blasts of bubbles is enough and gives a great effect to your party. If we use outside we can continuously use until required.