Dance Floors with Premier Beats Entertainment
Premier Beats Entertainment hire the greatest quality dance floors. We spend time in cleaning and polishing our floors making them look perfect for the next customer. We also spend time doing any repairs on our dancefloors. We have a great range of dance floors to hire at nearly any size you can imagine. Our dancefloor range includes white starlit twinkle led floors, black starlit twinkle led floors, striped starlit twinkle led floors, Zig Zag starlit twinkle floors and checkered floors.
Our Range of Dance Floors
Extra Information about our Dance Floors
Condition of our Dance Floors
Our dance floors are kept in the highest condition possible with cleaning after every event so when you hire our floors are spotless and shiny as possible. We also refurbish our own dance floors keeping them super shiny, when we refurbish our dance floors a tiny layer is skimmed from the top leaving are dance floors not only looking super clean and shiny but looking brand new.
Maintenance on our Dance Floors
Not only cleaning but we like to keep a high maintenance on our floors by repairing any faults soon as possible such as broken LEDs, broken power connections, etc. We also understand that repairing dance floor panels may not be possible right away, thats why we like to keep stock of spare panels just in case.
How our dance floors connect
Our dance floors connect through an interlocking system, which keeps all dance floors panels level with each other and do not spilt apart during use.
Our Dance Floor Edging
All of our dance floors share the same type of edging. Our checkered floor and starlit floors are approx 10mm thick. Edging runs around the side of the dance floors allowing easy access onto the floor without a step. Wheel Chair uses can also access the dance floor with the easy access edging installed around the outside.
Walkway attached to your dancefloor
Not only do we offer a great range of dance floors but we also offer walkways which can be connected directly onto the dancefloor. We have inverted edging which means its perfectly connected instead of a separate floor. We can offer this walkway with all our range of floors. The white starlit works perfectly for weddings.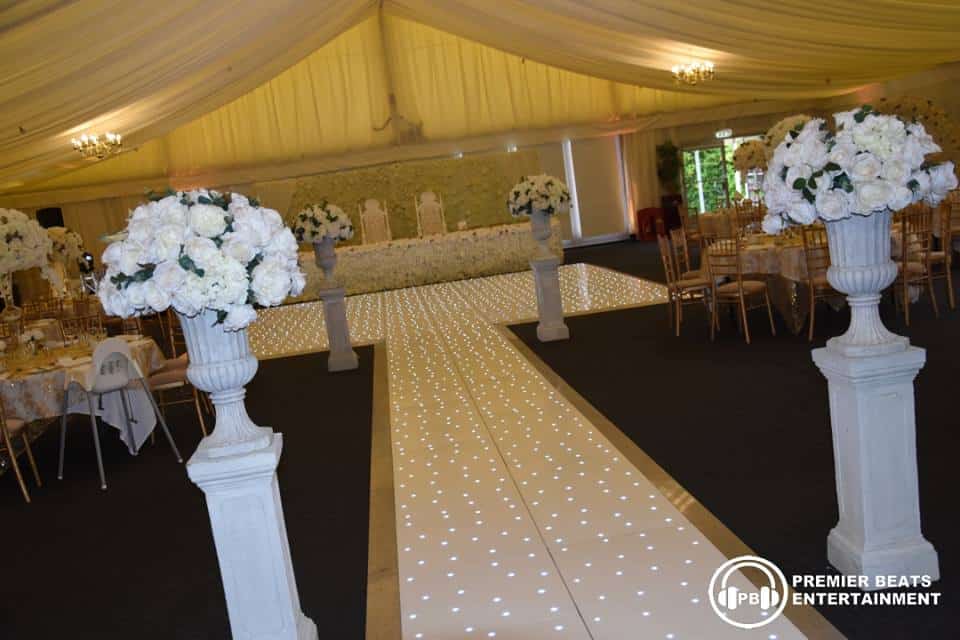 Our Showroom
Visit our showroom based in Evesham to view our dance-floors before you book. Our showroom is appointment only so please contact us so we can book you in.